Takasago - Search Results
Takasago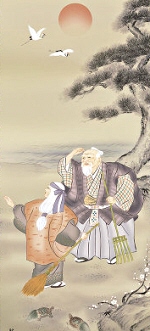 "Takasago" is one of the well-known titles of Noh, Japanese traditional theatrical performance.
Once upon a time, a Shinto priest came to Takasago Sea Shore in Harima Province (present Hyogo Prefecture) from Kyushu island.
Matsu (pine) tree were beautiful, and , a bell clanged upon his heart.
Then, an aged couple came and began to make a sweep under the Matsu trees.
They exhorted that Matsu tree are everlasting and how important matrimonial harmonies are, with singing Waka poems.
At the end, the couple declared that they were sprites of Matsu tree.
They took a boat and disappeared from the shore.
Takasago hanging scrolls with the elderly couple, the sun, Matsu & Bamboo & Ume trees, crane birds and turtles will bring prosperities and safety of families.
A scroll of Takasago is suitable to hang for bridals, engagements and festive events for children & elders.