Swimming Carp - Search Results
Swimming Carp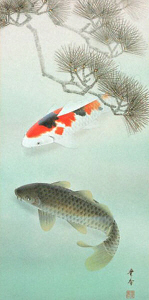 Japanese carp is called "Koi".
Koi fish is considered a fortunate creature in Japan.
Swimming couples of carp symbolize harmonies and safeties of families.
And more, paintings with carp and Matsu (Japanese Pine) tree drawn together on them will bring victories.
That's because when Japanese people say "carp and Matsu" in one word, they pronounce "Shouri".
And Shouri in Japanese has another meaning that is victory.