Mt. Fuji - Search Results
Mt. Fuji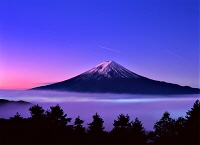 Mount Fuji is a symbol of Japan.
It has been worshipped and loved by the Japanese people since ancient times for its noble and nearly perfect conical shape.
Its elegant lines have long attracted artists, who have depicted various aspects of the mountain.
The Fuji of Utagawa Hiroshige's and Katsushika Hokusai's ukiyoe paintings is particularly well known overseas.
Or it is believed the luckiest dreams are those about Mt.
Fuji, hawks and eggplants.