Biography of Japanese Painter
Tsubaki Chinzan (1801 - 1854)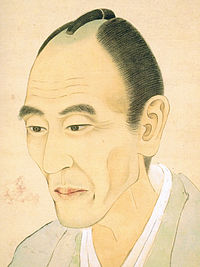 Bunjin-Ga style painter at the latter part of the Edo period.
Chinzan was good at painting flowers & birds, figures.
Chinzan was born in Edo (present day Tokyo) as the second son of Tsubaki Sadashige, aged 54, who served the Tokugawa Shogun as Samurai spearman.
However, Sadashige died when Chinzan was 7 years old.
Because Sadashige's occupation was descendent one, Chinzan succeeded to his father's job and became a spearman several years later.
He acquired the art of warfare, spearmanship, horsemanship and others.
Although, as his salary was small, he started learning painting to supplement his regular income.
Chinzan became a pupil of Kaneko Kinryo and studied flowers & birds painting in Shin-Nanbin style, though, Kinryo died as soon as Chinzan entered his school.
Therefore, Chinzan re-entered Tani Buncho's school.
When Chinzan was 17 years old, he became a disciple of Watanabe Kazan who was an exquisite disciple of Buncho.
Kazan was Chinzan's lifelong teacher.
Chinzan followed Kazan's painting style well, though, we can find more accommodating and moderate style from his works.
Chinzan was also good at Haiku poem, Japanese tea ceremony and playing Sho instrument.
He was calm, honest and silent.
He was devoted son and also he set a high value on friendship.
When his teacher Kazan was jailed for the reason of the Bansha Suppression, Chinzan scrambled for release.
After Kazan's Harakiri death, Chinzan sacrificially cared for Kazan's family members.
Chinzan died in 1854 at the age of 54.
Kakoku, Chinzan's son, was also talented painter, though, he died in 1850 at 26 years old. (4 years earlier than Chinzan's death.)
So, regrettably, nobody could succeed to Chinzan's style.