Biography of Japanese Painter
Takeuchi Seiho (1864 - 1942)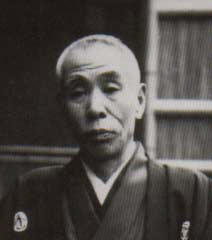 Seiho was born in Kyoto in midst of riots at the last days of Tokugawa Shogunate.
His given name was Tsunekichi.
In 1877, he started learning painting under Tsuchida Eirin of the Shijo school.
In 1881, when he was 17 years old, he became a disciple of Kono Bairei of the same Shijo school.
Soon, his painting skills improved much, he became a class president of the Bairei 's private school.
In 1887, when 23 years old, he married and set up for himself as a professional painter.
He also graduated from the Kyoto Municipal College of Painting in the same year.
In 1889, he started working for the school as a teacher.
In 1900, when he was 37 years old, he embarked on his 7 months journey to European countries.
Seiho was strongly impressed how to express lights in the Western painting methods.
After coming back home, he tried to combine such Western techniques of realism and Japanese painting styles, and he established his own style.
From the start of the Bunten Exhibitons in 1907, he served on the judging committee.
In 1913, Seiho was appointed as a court painter.
Seiho was one of the first persons to be awarded the Order of Cultural Merit in 1937.
Seiho also established his own private school, the Chikujokai.
He caltivated many well-known painters at that school, such as Uemura Shoen, Tsuchida Bakusen, Ikeda Yoson, Nishimura Goun, Hashimoto Kansetsu, Nishiyama Suisho and others.
Especially, Uemura Shoen is the most famous as a master of painting Japanese beautiful ladies.
Seiho was once in love with Shoen.