Biography of Japanese Painter
Rai Sanyo (1781 - 1832)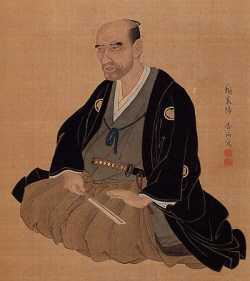 Confucianist at the latter part of the Edo period (1603-1868).
Sanyo was born in Osaka as a son of Rai Harumizu, official confucianist of Hiroshima Domain.
First, Sanyo studied confucianism under Rai Kyohei in Hiroshima, then, he went to Edo and studied under Bito Nisyu and Hattori Ritsusai.
Later, Sanyo moved to Kyoto and established a private school.
He exchanged with the literary men such as Yanagawa Seigan, Oshio Heihachiro, Shinozaki Kochiku and Urakami Syunkin.