Biography of Japanese Painter
Katsushika Hokusai (1760 - 1849)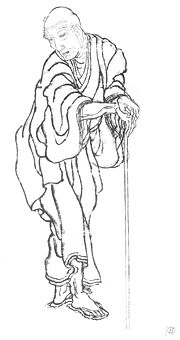 Ukiyo-e printmaker and painter.
Hokusai was born in Edo (now Tokyo) as a son of poor peasant.
His childhood name was Tokitaro.
When he was 12 years old, he was sent by his father to work in a book retal shop, then, he became an apprentice to a wood-carver at 14 years old.
In 1778, he became a pupil of Katsukawa Shunsho, Ukiyo-e painter.
Hokusai also learned the Kano style painting, Chinese and Western painting techniques.
However, he was ordered an excommunication from Shunsho for some reason in 1779.
In 1805, he started calling himself "Katsushika Hokusai".
In 1814, he published the first version of the" Hokusai Manga".
In 1831, Hokusai published the first version of the "36 Views of Mount Fuji" of worldwide fame.
The series was concluded in 1833.
Because this series acquired a good reputation, later, he published the "100 Views of Mount Fuji".
In 1849, he died at the branch house of the Senso-Ji Temple in Asakusa at the age of 90.
Actually, Hokusai had changed his pen name 30 times.
Hokusai is the most famous one in Japan and also in foreign countries.
It is well-known that Hokusai relocated 93 times in his life.
He and his family members were not good with household labors so that his house was always messy.
Hokusai's artworks had an influence on Western artists such as Claude Monet or Vincent van Gogh.