Biography of Japanese Painter
Hashimoto Gaho (1835 - 1908)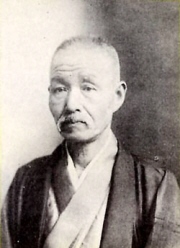 Gaho was born in Edo as a son of Hashimoto Osakuni who was a Kano style official painter for Kawagoe clan.
When Gaho was 12 years old, he became a disciple of Kano Shosen-in Tadanobu.
On the same date, Kano Hogai, Gaho's lifelong friend, also became a disciple of Tadanobu.
In 1860, Gaho got established from Kano Tadanobu.
When the Tokyo School of Fine Arts was founded, he was appointed professor with Arnest Fenollosa and Okakura Tenshin.
Later, Gaho founded the Japan Art Institute.
He fostered Hishida Shunso, Yokoyama Taikan, Shimomura Kanzan, Kawai Gyokudo and others.