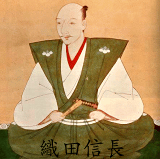 Two great sovereigns represent this period.
Oda Nobunaga & Toyotomi Hideyoshi.
They liked "Chanoyu" (=tea ceremony) very much.
Chanoyu tea ceremony was usually done in Tokonoma room.
Tokonoma architecture style was developed and established in this period.
Accompanied with the development of Tokonoma style, the techniques of painting and mounting were also developed because hanging scroll was always displayed in a Tokonoma room.