Biography of Japanese Painter
Yokoyama Taikan (1868 - 1958)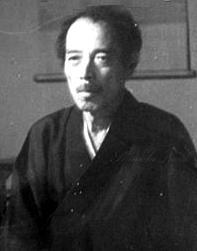 Taikan was born in Mito District of Ibaraki Prefecture, as the eldest son of Sakai Sutehiko, as ex-Samurai family in Mito clan.
His given name was Hidemaro.
He was adopted into his mother's family, from whom he recieved the surname of "Yokoyama".
With his family, he moved to Tokyo in 1878.
Taikan studied at one of the great painters, Kano Hogai, who was the master of the Kano school.
He entered the Tokyo School of Arts and studied under Okakura Tenshin and Hashimoto Gaho.
Hishida Shunso, Shimomura Kanzan and Saigo Kogetsu are Taikan's classmates.
Helped Okakura found the Japan Art Institute (Nihon Bijutsu-in) in cooperation with Hishida Shunso and Shimomura Kanzan.
Taikan tried to step out of the traditional Japanese painting style, that is the use of the line drawing.
With Hishida Shunso, Taikan developed a new style, eliminating the lines and concentrating on soft, experimented with various techniques.
His style was called "Mourou-tai" (Blurred style).
He kept innovating Japanese arts throughout the Meiji and Taisho and Showa eras.
Taikan received the Order of Cultural Merit and others.