Biography of Japanese Painter
Utagawa Hiroshige (1797 - 1858)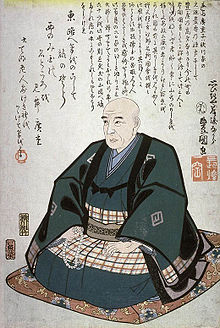 Ukiyo-e woodblock prints artist at the end part of the Edo period.
Hiroshige was born in 1797 (9th year of the Kansei era in the Edo period) as a son of Ando Genuemon, official firefighter under the direct rule of the Tokugawa-Bakufu Shogunate.
Hiroshige's real given name was Tokutaro.
Later, he called himself "Tetsuzo" (and "Juemon" or "Tokubei").
When 13 years old, Hiroshige inherited the occupation of the family from his father.
When 15 years old, he became a disciple of Utagawa Toyohiro.
In the next year, he was already permitted by his teacher to call himself "Utagawa Hiroshige".
11 years later, Hiroshige transfered responsibility for the family as an official firefighter to his adopted son "Chujiro", then, Hiroshige threw himself into Ukiyo-e painting.
At first, he mainly depicted Yakusha-e actor prints.
Then, he started depicting Bijin-ga beautiful woman pictures and Kacho-ga flowers-and-birds pictures.
In 1828, his teacher Toyohiro died, and after that time, Hiroshige mainly depicted landscapes.
In 1833, he exhibited the series of the "Tokai-do 53-tsugi" (The Fifty-three Stations of the Tokaido), and it became a big hit.
After that, he released series of Tokai-do views and Edo views.
He shared a strong rivalry against Katsushika Hokusai.
Hiroshige deceased in 1858 (5th year of the Ansei era) at the age of 62.
The cause of death was reportedly cholera.
Hiroshige's pieces of work have a high rating especially in Western countries for their daring compositions and beauty of blue.
The color of the vivid blue is called "Japan Blue" or "Hiroshige Blue".
And more, those greatly influenced French Impressionists such as Monet.
Or, Vincent Van Gogh collected many Ukiyo-e paintings and copied out some of them.