Biography of Japanese Painter
Tsuchida Bakusen (1887 - 1936)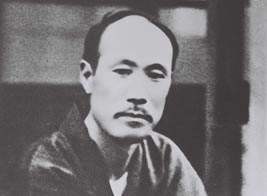 Bakusen was born in Niibo Village of Sado Island in Niigata Prefecture on February 9th of the 20th year of the Meiji era as a third son of farmer.
His real given name was Kinji.
His younger brother Tsuchida Kyoson was a philosopher.
In 1904, Bakusen became a disciple of Takeuchi Seiho who was a giant of the Kyoto circle of Japanese-style painters.
In 1911, Bakusen graduated from the Kyoto-Shiritsu Kaiga Senmon-Gakko (Kyoto Municipal Professional School of Painting).
He sent his works to the Bunten Exhibitions before his guraduation.
From his works in those days, we can see the influence of Henri Paul Gauguin, French post-impressionism painter.
In 1918, Bakusen participated in establishing the Kokuga Sosaku Kyokai (National Creative Painting Association) together with Sakakibara Shihoh, Ono Chikkyo and Nonagase Banka.
This association aimed at creating new style of Nihon-ga (Japanese-style painting) by integrating Western-style painting in Japanese style.
The association held their own exhibitions for seven times between 1918 and 1928 in competition to the Bunten Exhibiton whose judgement system was classical and conventionalized.
Bakusen was a leading player of the association.
He traveled to Europe in 1921 together with Chikkyo and Banka, and he had researched Western paintings for year and a half.
He also collected art works of Pierre-Auguste Renoir, Paul Cezanne and others during this journey and brought back them to Japan.
Bakusen's favorite subjects were Bijin (Beautiful women), especially Maiko girls.
Bakusen cultivated Komatsu Hitoshi, Fukuda Toyoshiro and others.
He died on June 10th of the 11th year of the Showa era.