Biography of Japanese Painter
Terasaki Kogyo (1866 - 1919)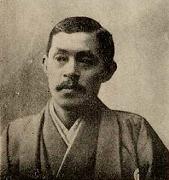 Japanese-style painter in the Meiji and Taisho eras.
Kogyo was born in Dewa Province (present Akita Prefecture) as a son of executive Samurai.
His grandfather served Akita Domain as a chief retainer (Karo).
However, after the Meiji Restoration in 1868, his father failed in business and Kogyo had hardships.
When he was 16 years old, he started studying painting under Komuro Hidetoshi of the Kano school.
In 1888, Kogyo went to Tokyo and became a pupil of Hirafuku Hoan of the Shijo school.
Okakura Tenshin who was in a position of the director of the Tokyo School of Fine Arts (Tokyo Bijutsu Gakko) found Kogyo's talent and he invited Kogyo for an assistant professor of that school in 1898.
Though, next year, Tenshin was kept away from the school so that Kogyo also left the school.
Tenshin established the Japan Art Institute (Nihon Bijutsu-In), and Kogyo participated in that institute together with Hashimoto Gaho, Yokoyama Taikan, Shimomura Kanzan and others.
In 1901, Kogyo came back to a professor of the Tokyo School of Fine Arts.
In 1904, as the Russo-Japanese War occurred, he joined the Imperial Army of Japan as a painter.
In 1907, he sent his work to the first Bunten Exhibition, and, he also became a judge of the exhibition.
He was accepted for the subsequest Bunten Exhibitions several times.
Kogyo mainly drew historical pictures in the Meiji era, though, his main subjects of drawing came to landscape views.
He deceased on Feburary 21 of the 8th year of the Taisho era at 54 years old.