Biography of Japanese Painter
Okakura Tenshin (1863 - 1913)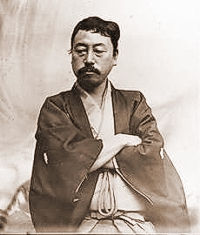 Tenshin was born in Yokohama of Sagami Province (=Now Kanagawa Prefecture).
His given name was Kakuzo.
His father, Kanuemon, ex-Samurai of Fukui clan, changed career to a foreign trade merchant.
So that Tenshin was immersed at an early age in listening to English.
Tenshin attended to Tokyo Kaisei School (=Now Tokyo University) and studied under Ernest Fenollosa.
In 1890, Tenshin was one of the principal founders of Tokyo Bijutsu Gakko (Tokyo School of Fine Arts), and a year later became the head.
Later, he was ousted from the school in an administrative struggle.
He founded Nihon Bijutsu-In (Japan Art Institute) with Hashimoto Gaho and Yokoyama Taikan.
He was invited to the Museum of Fine Arts, Boston in 1904 and became the first head of the Asian art division in 1910.