Biography of Japanese Painter
Nishiyama Suisho (1879 - 1958)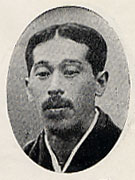 Japanese-style painter flourished through the Meiji, Taisho and Showa eras.
Husband of Takeuchi Seiho's daughter.
Suisho was born in Kyoto Prefecture on April 2 of the 12th year of the Meiji era.
His real given name was Usaburo.
Suisho is a pseudonym.
He became a disciple of Takeuchi Seiho in 1893.
Suisho graduated from the Kyoto-Shiritsu Bijutsu Kogei Gakko (Kyoto Municipal School of Fine Arts and Crafts) in 1898.
He cut a brilliant figure early on and won many prizes at the important exhibitions such as the Naikoku-Kangyo Hakurankai or the Zenkoku Kaiga Kyoshinkai.
Later, he also sent his works to the Bunten and the Teiten Exhibitions.
In 1919, Suisho became an adjudicator at the first Teiten Exhibition.
And also he took up a professorship at the Kyoto-Shiritsu Kaiga Senmon-Gakko (Kyoto Municipal School of Fine Art) in the same year.
In 1921, he established the Seiko Sha (private painting school) and cultivated Domoto Insho, Nakamura Daizaburo, Uemura Shoko and others.
In 1929, Suisho became a member of the Teikoku Bijutsu-In.
In 1933, he became the school principal of his old school (the Kyoto Municipal School of Fine Arts and Crafts).
In 1944, he was designated as a Teishitsu Gigei-In.
After the Second World War, Suisho was still a leading figure of the Kyoto circle of painters, and, he was awarded the Order of Cultural Merit in 1957.
Suisho deceased on March 30 of the 33rd year of the Showa era at the age of 80.