Biography of Japanese Painter
Miki Suizan (1887 - 1957)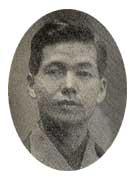 Suizan was born in Hyogo Prefecture on July 15 of the 20th year of the Meiji era.
His real given name was Saiichiro.
He studied painting under Takeuchi Seiho.
Suizan was good at painting Bijin (=Japanese beautiful women).
He won some prizes at the Bunten and the Teiten exhibitions.
Though, he quit sending his works to any exhibition since his master Seiho deceased in 1943.
Suizan passed away on March 25 of the 32nd year of the Showa era at the age of 69.
His masterpieces are "Totsugu Ane (Sister marrying into a family)" and "Genroku Kaikyo".