Biography of Japanese Painter
Kumagai Naohiko (1829 - 1913)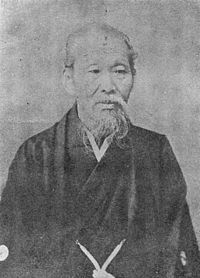 Naohiko was born in Kyoto as a son of Yamamoto Suekane, priest of a shrine at Kamo district.
When Naohiko was 14 years old, he became a disciple of Okamoto Shigehiko who was a dominant painter of the Shijo school.
After Shigehiko's death, Naohiko taught himself Japanese style painting.
In 1844, Naohiko became an adopted son of Kumagai Samon, Samurai of Geishu Domain.
At the end of the Tokugawa Shogunate, Naohiko operated as a Sonno-Joi nationalist (Revere the Emperor, Expel the Barbarians).
After the Meiji Restoration in 1868, he went to Tokyo and flourished as a painter again.
He sent pieces of works to the Chicago World's Expo in 1893 and the Paris Expo.
In 1904, Naohiko was appointed as an official artist for the Imperial court.
He was good at painting landscape pictures.