Biography of Japanese Painter
Kobayashi Kokei (1883 - 1957)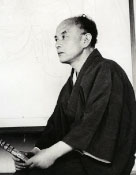 Kokei was born in Takada of Niigata Prefecture in the 16th year of the Meiji era.
His given name was Shigeru.
In 1899, he went to Tokyo and became a disciple of Kajita Hanko.
Kokei participated in the Kohjikai with Imamura Shiko and Yasuda Yukihiko.
In 1914, Kokei participated in the reconstruction of the Nihon Bijutsu-In (The Japan Art Institute).
At 39 years old (1922), Kokei went to Europe to study with Maeda Seison.
In 1944, he became a professor of the Tokyo Bijutsu Gakko (Tokyo School of Fine Arts).
In 1950, he was awarded the Order of Cultural Merit.
Kokei passed away in the 32nd year of the Showa era at the age of 75.