Biography of Japanese Painter
Kawai Gyokudo (1873 - 1957)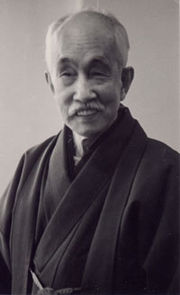 Gyokudo was born in Aichi Prefecture as the eldest son of a paper, Sumi ink and Japanese brush merchant.
Gyokudo went to Kyoto and studied the Maruyama and Shijo styles under Kohno Bairei.
In 1896, when he was 23 years old, he moved to Tokyo and became a student of Hashimoto Gaho.
Gyokudo is one of the founding members of Nihon Bijutsu-In (Japan Art Institute).
He was ordained as a judge of the 1st annual Bunten Exhibition in 1907.
From 1915, he became a teacher at Tokyo Bijutsu Gakko (Tokyo School of Fine Arts).
In 1940, he was awarded the Order of Culture by the Japanese government.
During World War 2, he moved to Ome, Tokyo for safely.
He liked the environment and had lived there until he died in 1957.