Kutani ware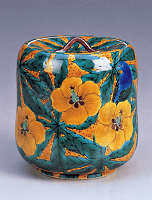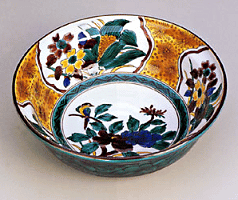 Ko-Kutani (=Old Kutani) of early stage progressed under the support of the Daishoji clan in 1655. After the discovery of potter's clay at a mine near Kutani village, Saijiro Goto was sent to Arita in Kyushu district to master ceramics and brought back the techniques.
Though the Ko-Kutani kilns developed their bold and lovely style.
They disappeared suddenly in about 1700. The cause of the decline is still unknown.
Then the Kasugayama kiln opened at Kanazawa under the control of the Kaga clan about eighty years after the close of the Ko-Kutani kiln. And here strarts the period of Restored Kutani. A lot of kilns were built such as the Mokubei kiln, the Yoshida-ya kiln, the Miyamoto kiln, and the Eiraku kiln, developing each special style.
In the Meiji period, Shoza Kutani developed his own style which became popular for its painting of "Saishiki-kinrande" with all styles putting together and the works of his apprentices were exported to get a high position as Industrial Arts of Kutani.



Ko-Kutani (About 330 years ago)
This style prospered under the guidance of Mrikage Kusumi, expert of the Kano school of Japanese painting. It is characteristic of mighty and lovely design and flowing hairline with five color paints (green, yellow, red, purple, dark blue).
Mokubei (About 180 years ago)
After the decline of the Ko-Kutani, the Kasugayama kiln was founded. Mokubei Aoki, painter in Kyoto is said to have led the style. Ground is generally painted red and figure of Chinese style is preferred as an object.

Yoshida-ya (About 165 years ago)
This is a style of Ko-Kutani origin, painted all over with four colors except red with small pattern as ground, showing profound atmosphere.

Iida-ya (About 150 years ago)
This is a minute painting of figure with the color of re as ground and gold in places.

Shoza (About 135 years ago)
This is the main style of today with all styles putting together. The "Saishiki-kinrande" is characteristic of it.

Eiraku (About 120 years ago)
This is a gorgeous style with red as ground and gold showing refined beauty of "Kyo-yaki" style led by Wazen Eiraku.
---
Kiyomizu ware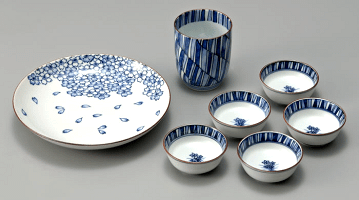 1. Origin
The origin of Kyo-Yaki (=Pottery in Kyoto area) is uncertain.
In the former part of the 5th century, the reign of Emperor Yuryaku, it is written that craftsmen at Fushimi district were engaged in making pottery.
Later, priest Gyoki opened kilns at Gojyo-Zaka district by Imperial orders.
In the Muromachi period (1334 - 1573), potters in Kyoto created multicolored overglaze painting method based on technique introduced from Ming dinasty in China.
Around the beginning of the Edo period (1603 - 1868), a large amount of tea bowls was produced mainly at Higashiyama district along with the prevalence of Japanese tea ceremony (=Chanoyu).
These kinds of pottery have been called "Kyo-Yaki" in Japanese.
Kyo-Yaki means pottery made in Kyoto area.
Kiyomizu ware is included in Kyo-Yaki category.
(Kiyomizu is a place name in Kyoto).


2.The great potters
Ninsei Nonomura (1574 - 1660) was a potter in Tanba area at first. Then, he came to Kyoto and started making tea bowls. He got the secret process for colorful painting. His colorful overglaze painting technique influenced very much on other kilns.
Kenzan Ogata (1663 - 1743) is younger brother of the great painter Korin Ogata.
He mastered Ninsei pottery style and also studied painting techniques from his brother. Finally, he broke new pottery ground with his particular painting style.
At the middle part of the Edo period, Chinese style became mainstream of the patterns of painting on Kyo-Yaki pottery.
Mokubei Aoki (1767 - 1833) is most famous potter in this time.
Ninsei, Kenzan & Mokubei are called "Three Giants of Kyo-Yaki".



3. Now
After the Meiji Restoration (1868), modern and efficient production methods were introduced to Kyo-Yaki world. Though, Kyo-Yaki keeps high-quality in manners of small-lot production and a large viriety of styles.